The daily flying display, which includes the most advanced commercial and military aircraft, brings innovation to the skies over Farnborough.
The most modern commercial and military aircraft are displayed during the exhibition's daily flying demonstration, which takes place in the afternoons.
A valuable opportunity to emphasise the potential of your products is provided by the well-organised display, which is enhanced by an educational commentary broadcast across the exhibition site.
Visitors may receive a close-up view of the aircraft during the static show, which runs concurrently with the exhibition. The Farnborough Aerodrome's natural amphitheatre allows planes to be presented to their full potential.
August 2023:
05 Aug - What will your East Kirkby Air Show in 2023 include?
Depending on the flight program, the Lancaster taxi run times may need to modify a little.
Our complete annual airshow, which serves to raise money for the ongoing restoration of the Avro Lancaster NX611, will take place this year. You must try to purchase your tickets early as we have a 5,500 ticket cap, and we sold out last year. The audience should be satisfied because we have acquired some of the top performances in the nation! Every person who intends to attend the event must purchase a ticket in advance to enter the venue.
To give you a great family day out, we will feature re-enactors, Lancaster taxi runs, trade stalls, vintage automobiles, military vehicles, and more. Check the news section below for the most recent details on the on-the-ground activities and aerial displays.
09 Aug - Falmouth Week
Falmouth Sailing Week seeks to offer top-tier competitive racing in a friendly environment over a variety of courses throughout the week, followed by delightful teas, prize presentations, and entertainment at a new host club each day. Many of the participants combine racing with their yearly family vacation! There are several places to watch the Carrick Road fleet race on the banks of the River Fal, like the coastal paths that circle the estuary. Pendennis Headland is a good location for seeing the Bay and Carrick Roads below, especially from the walls of Henry VIII's Pendennis Castle.
12-14 Aug - Whitby Regatta 2023
Whitby Regatta offers three full days of entertainment, including yacht racing, rowing competitions, fancy dress contests, and funfair rides, all of which are capped off with a grand firework show and prize presentation.
17-20 Aug - 'Airborne' International Air Show 2023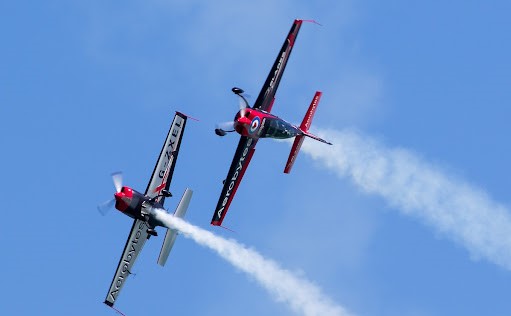 Eastbourne's International Airshow draws many people and features a 2-mile flying display line down the city's beachfront. The flying program begins at about noon each day and concludes around five o'clock. The sitemap for Airbourne. Purchase a program to help the airshow's future.
24-25 Aug - Clacton Air Show 2023
Now in its 29th year, the event included a jam-packed schedule of flights above the town's coastline, including fast jets, aerobatics, and historic aircraft.
On the first day of the event, storms remained away, preventing the threatening rain from dampening spirits. In addition, Organisers bent the flight schedule so that practically all of the displays, including the RAF Red Arrows and a Lancaster bomber from the RAF Battle of Britain Memorial Flight, took place.
Day one came to a close with an exquisite sunset spectacular that featured pyrotechnics from Clacton Pier before a glittering drop from the Tigers Army Parachute Display Team, the Firebirds, and Otto the Helicopter.
26-28 Aug - Military Odyssey
The 23rd edition of Military Odyssey will soon begin.
Romans, Vikings, Medieval, English Civil War, Napoleonic, American Civil War, Wild West, World Wars I & II, Vietnam, and modern times are a few groups that span a significant portion of world history.
Military Odyssey is the largest multi-period reenactment show in the world, attracting over 4,000 re-enactors and living history lovers and having over 250 stalls. Whatever historical expertise you possess will surely be something for you.
Battlefield reenactments take place all weekend long on the 200-acre site's different arenas in addition to the main battlefield.
September 2023:
01-03 Sep - Chatsworth Country Fair
One of England's most extravagant annual outdoor events is the Chatsworth Country Fair. Thousands of travelers from across the nation visit to join us for a fun, family-friendly day out at the event, which is held in the 1000-acre parkland around Chatsworth House.
Enjoy three jam-packed days of exciting Grand Ring entertainment, motivational cooking demonstrations, delectable food, fantastic shopping, and a tonne of activities at which you can try your hand. In addition to this spectacular air show, there is a vintage market, a kids' climbing wall, a bungee trampoline, and much more.
2023 Battle of Britain Airshow, September 16–17, Duxford Aerodrome
When Duxford served as a crucial WWII fighter station defending Great Britain from aerial attack in 1940, it was at its best. It is remembered each year during the Battle of Britain Air Show. You can experience the sounds, images, and sights of a large-scale Spitfire flypast and an afternoon of fun aerial displays and dogfights using recognisable Battle of Britain aircraft, including Hurricanes, Spitfires, and Messerschmitts.
Here is a list of the airshows for the first half of 2023 allowing you to explore different aircraft in the sky or the ground, from the past or in the present. Don't forget to bring your camera, binoculars and some tasty snacks with you! Have a fantastic time!